Full Range Residential & Commercial
Propane Services
Propane services, repairs, installations & delivery
One-Stop-Shop For All Propane Services in North GA
Amicalola Propane provides propane sales, service, and repair to farms, homes, and businesses in North Georgia. Our current service areas include Dawson, Forsyth, Lumpkin, Pickens, and West Hall counties. We are a locally owned and operated company in Georgia.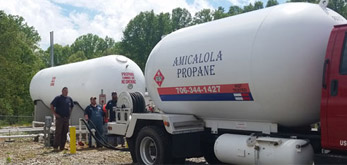 Our Services Include
Propane sales

Service and repair 
Gas log sales
Propane Appliance Installation
Tank Burial
Our Keep Full Program
We offer our customers the ability to be on a "keep full program." This program insures that they never run out of propane, never have to call in for an order, and all the while saving them money year round.  These customers are automatically included in the Summer Sale Program when propane prices are at the guaranteed lowest prices of the year.  Those individuals wanting to be included in the "Keep Full Program" should be willing to accept deliveries year round. This program offers substantial saving to our loyal propane customers.
Why Propane?
Propane is a portable, clean and efficient energy source
About 90 percent of our propane is produced in America
propane is one of the cleanest burning fossil fuels. It creates less pollution, providing all of us with cleaner, more breathable air. It is also up to 99% efficient.
On average, propane costs about half as much per BTU as electricity and propane gas fireplaces cost 30 to 60 percent less per hour of operation than do wood burning fireplaces
Propane gas furnaces last an average of 20 years, while electric heat pumps last an average of 14 years. It also costs less to repair a propane gas furnace than an electric heat pump.
Propane heat is 30 – 40 degrees warmer than heat produced from an electric heat pump that dispenses cooler air.